OTT (over the top) platform advertising is on a steady climb, aided no doubt by the astonishing increase of streaming platforms and viewers over the past few years. In 2020 alone, the OTT advertising numbers are set to reach US$ 5 billion; some experts even expect it to pass digital subscription revenues very soon.
On the user side of things, ads can be quite disruptive to the viewing experience if not placed properly. Too many ads can make a video laggy; pop-ups and midroll ads often leave users fuming. Ad blockers are growing much more sensitized to such ads, blocking them to reduce the hassle for users.
For businesses being severely affected by this, server-side dynamic ad insertion comes as a breath of fresh air.
What is Dynamic Server-Side Ad Insertion?
Server-side Ad Insertion, or SSAI, is a method in which advertisements are introduced into a piece of high-quality content such as video. It's also known as dynamic ad insertion or ad stitching.
This ad insertion process allows for a bufferless switch from content to ad and back. The benefit? An internet-bred user interface to rival broadcast TV, even surpasses it.
How Does Server Side Ad Insertion Work?
In a nutshell, this method of seamless add insertion requires an SSAI vendor who sits between the Online Video Player (OVP) and the Ad Server to mediate the content stitching of the ads. It combines ad content and video content at a Content Management System (CMS) level, instead of the browser level.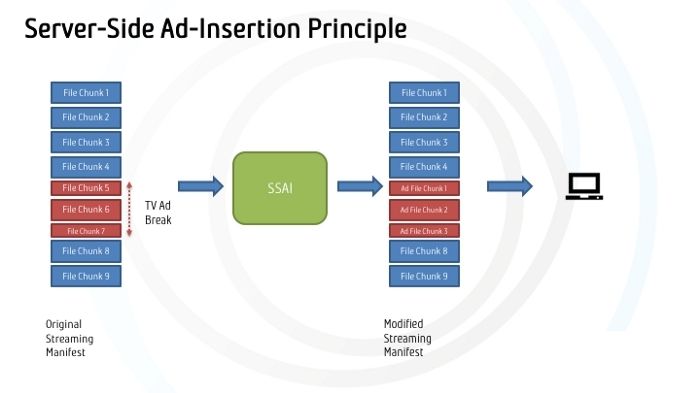 In a normal scenario, video ads are inserted after an analysis of real-time user data. This is called client-side ad insertion. Many users often experience a delay in loading either ad or video– this is because the content assets corresponding to user data are being fetched from the servers for display. This lag occurs because the video and the ad are two separate files that are later sequenced together.
During OTT server-side ad insertion, this sequencing doesn't take place on the browser while the user waits. It occurs at the level of the CMS platform– the stitched video is only then presented to the viewer, and as a single stream instead of a glitchy or laggy experience.
Server Side Ad Insertion takes and changes the initial streaming manifest for each user. Each user gets a special manifest where selected ad files replace chunks of the video content during the television ad break.
The information on which files to replace is placed in a video signal connected to the live media encoder. A marker is then placed on the video content to signal where the ad is to come; when the marker is identified, the ad request is sent to the server in real-time and the ad is shown.
How Often is SSAI Used in OTT?
When device fragmentation became an issue, ad stitching became a popular solution for monetization in the industry. A variety of devices were being used for streaming – laptops, smart TVs, smartphones and a whole host of OTT streaming platforms. Client-side capabilities couldn't hold up, so developers turned to server-side ad insertion architecture.
SSAI can either be used to replicate a broadcast commercial during live video streaming or to insert ads into videos-on-demand such as TV catchups or rebroadcasted lives.
What are the benefits of server-side ad insertion?
– Seamless insertion
Unlike regular video content with ads, Dynamic Ad Insertion allows ads to seamlessly integrate with video content. This prevents lags in video content which affect viewership and reduces the time taken to load.
– Better user experience
Seamless ad integration means users don't have to watch laggy videos or buffering ads. This makes the user experience much better and prevents viewers from leaving due to laggy videos or too many ads disrupting the flow.
– Prevents ad blocking
The way that ads are stitched with video content helps to prevent adblocking. As ad blockers grow increasingly advanced, SSAI helps to keep video ads away from their eyes by seamlessly integrating them with the main video content.
– Supports poor connections
Dynamic ad insertion technology can adapt to changing bandwidths so that ads appear seamlessly. This is done by rendering lower-quality streams when internet connections are weak to reduce the chances of buffering.
– Available across devices
SSAI technology can help ads show up on a plethora of streaming devices without sacrificing user experience. It supports both web and app environments so that SSAI content can be streamed on desktops, tablets, smartphones and other connected streaming devices.
– Used by different media owners
Server side ad insertion is beneficial for media owners using a multitude of platforms. It is especially helpful for media owners experimenting with live streams, live-linear cable TV or VOD content.
Also Read: What is Adaptive Bitrate Streaming & How Does it Work
Conclusion
SSAI is slowly racking up a following, many of whom are switching over from client-side ad insertion. Today, there are quite a few server-side ad insertion platforms, including tech titan Google server-side ad insertion.
GudSho, a global OTT platform for video monetization, also recognizes the benefits of Server Side Ad Insertion (SSAI). It offers filmmakers, distributors, production houses, and other video stakeholders to seamlessly integrate ads into their video, especially if they rely on Ad-based Video on Demand systems.
Experience best-in-class SSAI on a user-friendly dashboard by using GudSho to monetize your films worldwide.