With the heavy winds favoring the sail of OTT platforms in recent times, there is a change in the entertainment business paving way for the increase in demand for OTT premiere platforms. It is a herculean task to pick the right streaming platform for movies to reach out to audiences. Your search for the solution ends with the emergence of GudSho, a powerful OTT platform enabling the entertainment business to grow without any barriers.
By taking the entertainment business to the doorsteps of the customers, GudSho connects millions of movie buffs to keep them entertained and enthralled to give them a high-resolution theatre experience at home. It brings a social connection among its viewers with its all-inclusive entertainment platform. Now witnessing a movie with family and friends in theatres can be felt from the comfort of their homes with GudSho social watching features.

With an increase in the viewership for entertainment apps, GudSho offers a one-of-a-kind improved digital visual experience. You can enjoy the streaming of a variety of entertainment-oriented content like web series, feature films, documentaries, stand-up comedy shows, and many more. GudSho's customizable and high-quality deliverance can boost the upcoming premiere movies to reach the movie buffs by giving them a unique theatre experience. Compared to other OTT movies, the videos or movies streaming at GudSho is equipped with high resolution and visual clarity as it focuses mainly on delivering a visual treat to its audiences.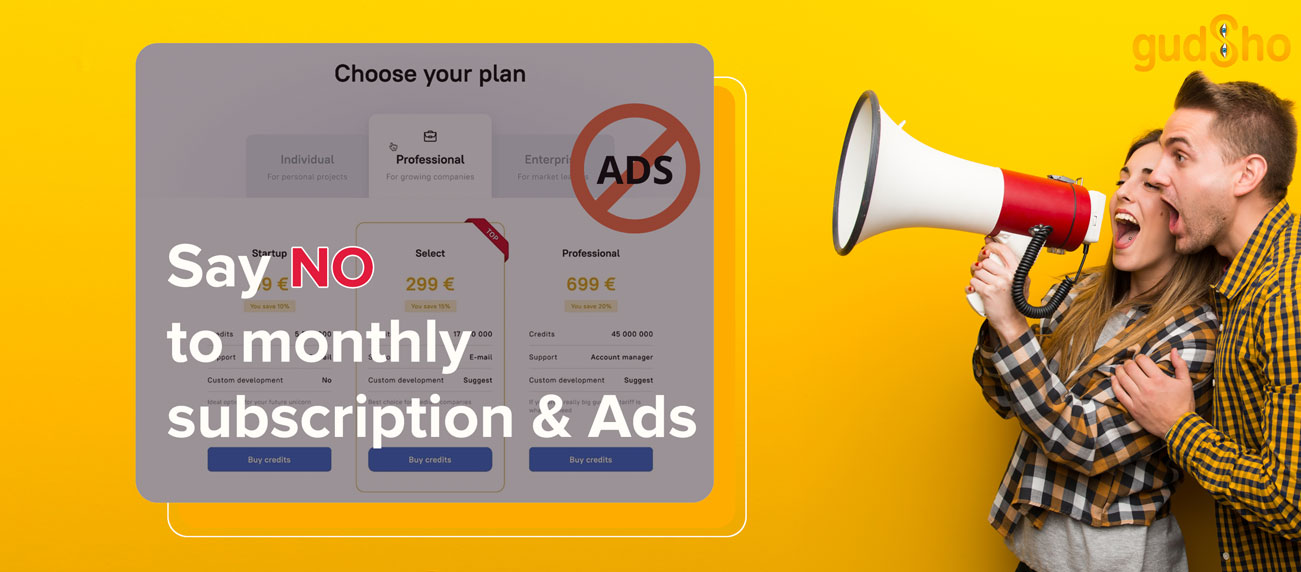 What is so unique about GudSho?
Even though many OTT players exist, GudSho stands out by offering a social interaction among its viewers to have collective or individual interactions, chats, and expressive mediums to bring in an emotional and personal touch in entertainment. With multiple features from GudSho, you will witness a social watching OTT experience from your home. Let's check out what makes GudSho very unique:
Shocial-

The most prominent offering of GudSho is Shocial, a networking choice enabling interaction and engagement while watching movies. The interaction of users in the platform is not restricted based on time and it offers the viewers an unlimited viewer interaction.
Feelers

allow the audiences and viewers to express their real emotions while enjoying a video. You can exhibit your mood with emojis, smilies, and expressions while streaming movies or shows. It helps to read the pulse of the audience and acts as the reviews for the shows while sharing it with friends or the public.
Group Watch

offers you the comfort of enjoying your favorite movie with your loved ones even if they are miles apart. There is an exclusive chat feature that helps to have conversations between movie buffs and brings a more intimate engagement of content.
Gift Ticket gives you the privilege of sending gift cards to your close friends and family to never miss out on their favorite shows on GudSho.

GudCoins
Forget your monthly subscriptions or Wait for longer Ads in movies
GudSho is changing the dynamics of entertainment with its unique gamifying experience in streaming movies. With many OTT platforms adopting a traditional way of streaming movies, GudSho breaks all the trends by revolutionizing the OTT with the coin-based feature.
– With a nominal subscription fee, you can watch the latest and popular movies streaming exclusively on GudSho. The charges for the movies are collected by the use of GudCoins.
– GudCoin concept is quite simple, it is like poker chips, like how you get gaming chips in lieu of currency in casinos, GudSho used GudCoins in lieu of money. You can purchase GudCoins only for the movies you intend to see or buy them in bulk and use it for future purchases.
– It takes away the monthly or yearly subscription process and saves your wallet from spending too much money on movies you don't watch.
– GudCoins is not time-bound and it never expires. With a one-time purchase of some coins, you can use it for as many films as you see and purchase further coins when you decide to see more movies.
– The audience can take advantage of the Pay-Per-View model using GudCoins as it prevents unwanted spending on movies that you do not wish to see.
I can put it out simply as Paying for what you watch and saving for what you wish to watch.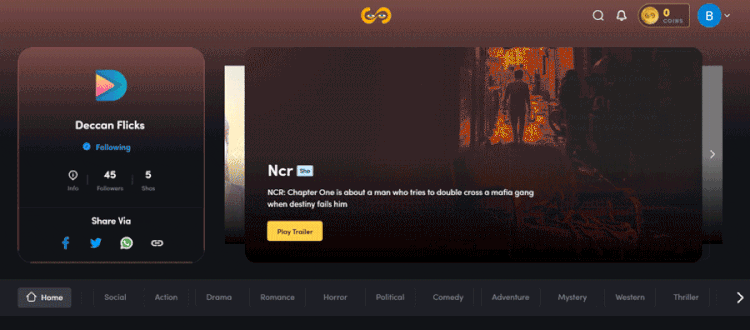 How does it work?
You will be amazed to witness the magic of GudSho's GudCoin as it promises to be different from any other OTT platform feature. Check out how it works for the easy purchase of coins to watch movies.
In GudSho OTT, you will find the process for payment and the number of coins on the right side of the screen. Firstly, for you to purchase coins, you have to understand the value of a single coin. With one rupee, you can purchase Two GudCoins. The rate of coins to watch a movie depends upon the demand and exclusivity of each product. For example, The Great Indian Kitchen is charged at 30 rupees which is 60 GudCoins whereas Oka Chinna Viramam is sold for 40 GudCoins.

After selecting the movie you wish to see, check your coin balance to ensure the purchase. In case of no coins left in your account, recharge the account with the purchase of coins to continue to enjoy watching movies. You can buy 200 coins for Rs.100 in advance to spend on the movies you intend to see. There is no expiry for these coins and it stays in your reserve for you to pick and enjoy seeing more movies. You can top-up these coins as per your viewing interest.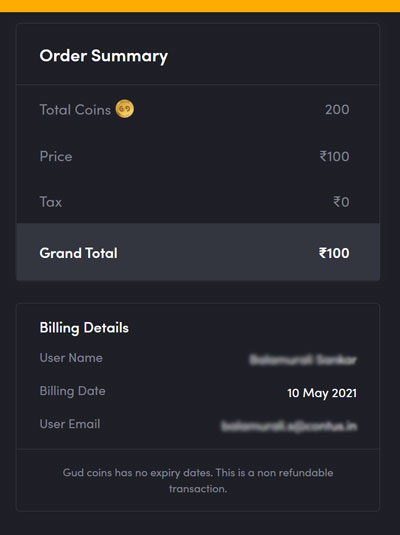 Sounds simple and interesting, isn't it? The very idea of GudCoins is to amaze the audiences by saving money in their wallet and offer a theatre experience on their screens at home.
Wish to trade coins for movies? Go Ahead! Make your Subscription to GudSho for stashing more coins to watch more interesting movies. Sign up for GudSho here.